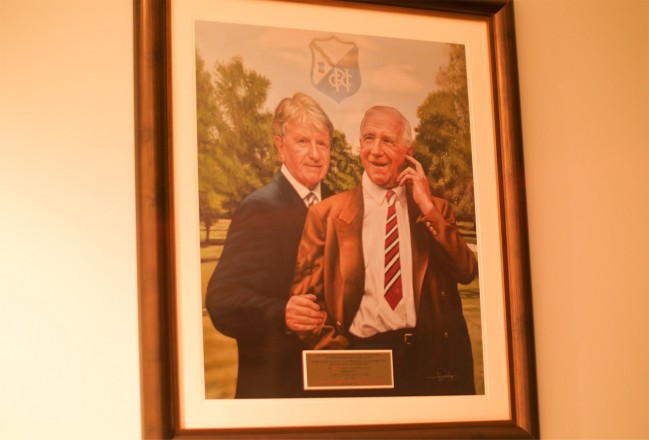 When Manchester United removed a plaque commemorating Sir Matt Busby from the director's box at Old Trafford last month and moved access to seats for his grandchildren to another part of the stadium, eyebrows were raised.
The legendary Manchester United manager who survived the Munich Air Disaster will of course always live on in the memory of supporters worldwide. Fans who walk down Sir Matt Busby Way every time they visit the Theatre of Dreams will forever chant his name and sing the famous Busby song.
But the great man would surely have an extra big smile on his face last night, if he was looking down on a loyal gathering of family, friends and former players at their favourite golf club.
A wonderful portrait of Sir Matt and son Sandy painted by lifelong fan and local artist Stewart Beckett was unveiled in the brand new clubhouse at Northenden Golf Club – rebuilt after being totally destroyed by a fire two years ago this month. The room where the painting now hangs has been re-named The Busby Bar.
Paddy Crerand, David Sadler, Wilf McGuinness and Sir Matt's daughter-in-law Irene Busby took part in the opening ceremony, witnessed by a private gathering in honour of the Busby family.
"It is a fitting honour to Sir Matt. The painting by Stewart Beckett is magnificent and to have it hanging in the Busby Bar is brilliant," said Alan Wardle, CEO of the Association of Former Manchester United Players, whose spectacular fund-raising efforts for good causes deserves huge recognition.
Roland Harris, director and chairman of the Northenden Golf Club, said: "We are proud to have a long association with Sir Matt, Sandy and Manchester United. It goes back many years and we are proud and pleased that it goes on to this day."
The opening of the Busby Bar and the unveiling of the painting followed the association's annual golf tournament, won by ex-player Andy Ritchie, who said he was honoured to receive the trophy on such an occasion.
The world's highest paid footballer, former United hero Cristiano Ronaldo last year earned 88 million pounds. But it should not be forgotten that loyal servants from a bygone era never earned salaries they could retire on. Far from it. Many are consequently still working well past their retirement age. And the fund-raising and support of the much-respected AFMUP plays a vital role in helping to look after their well-being.