Simon Cowell was not impressed when a bike riding raccoon from Kent made it to the London Palladium. Melanie got the big red buzzer when her Britain's Got Talent audition crashed and burned.
But the talented three-year-old – who can clap, dance and even ring her own bell – is so determined to make it as a star she has been learning new tricks since her 2013 BGT audition ended in failure.
Now Melanie raccoon has been given a second chance by a TV producer who believes she has what it takes to star in her own show.
Filming is scheduled to commence next month on the first episode of a children's TV programme that will be previewed by buyers from all over the world this April in Cannes, home of the world famous Film Festival.
"Melanie Raccoon is the most talented raccoon I have ever seen," agrees animal trainer Trevor Smith, host of the hit TV series Wild Thing, which was created by John Gubba, the producer-director who now wants to make Melanie a star.
"This is wonderful news and I never stopped believing that my little baby girl is destined for super stardom," says Melanie's 'mom', American-born owner Kimberly Unger.
"I have the most unbelievable bond with little Melanie," adds Kimberly, who is bursting with pride at the prospect of a television show that the producers hope to distribute worldwide.
"Melanie is so friendly with people of all ages and with other animals. She is accustomed to traveling in cars, buses and trains, walking alongside traffic, going into stores, staying overnight in hotels and B&B's. She has even been to school.
"Raccoons do not make good pets for most people, especially because they can be mischievous."
But Kimberly, who arrived in England five years ago in order to study animal behaviour and has since obtained an MSc Equine Science degree, has been pushing the boundaries of what experts believed was possible since adopting Melanie at eight weeks old.
"My aim was to spend as much time as possible to socialise and train her so that I could gain a better understanding of raccoon intelligence. Raccoons are exceptionally intelligent animals and have not been studied in depth since the early 1900s. She has the intelligence of a toddler.
"My love, dedication, patience, and scientific background have enabled me to properly care for this most amazing animal!"
Melanie has been offered the chance to star in her own TV programme by independent production company VSITV. Owner and producer-director Gubba says: "People say never work with animals or children. But I have filmed many animal stars and Melanie has that special X Factor that people are going to fall in love with."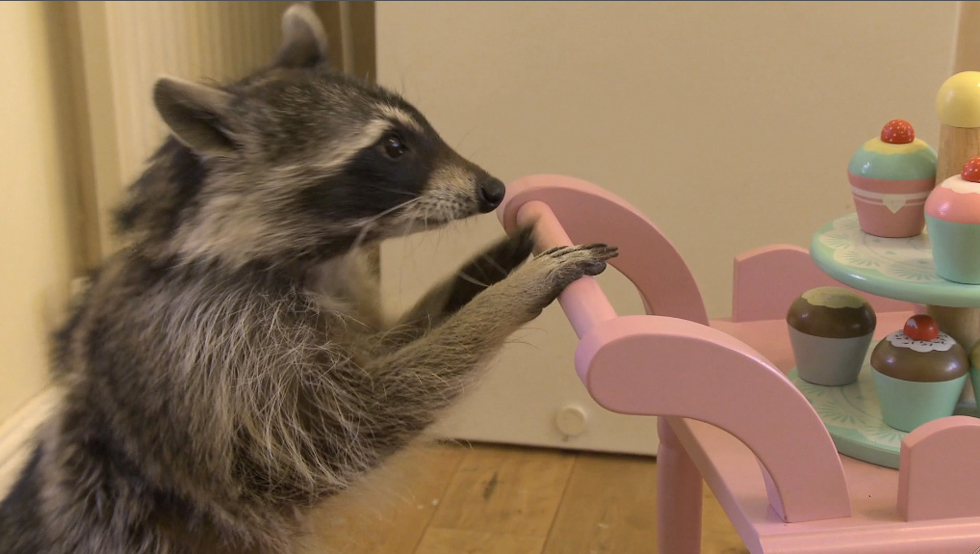 For a sneak preview of what all the fuss is about, watch Melanie's test shoot filmed by Gubba for VSITV via the link on the image below . . . or watch the trailer above.