Infomercial:
Location: Copenhagen, Denmark. Year of Production: 2013.
Brief: To produce an infomercial that explains the Hair by Hair procedure at the Helios Clinic. The client is former Denmark international footballer Klaus Mathiesen, who wants to present the video and appear in live interactions with his patients. The client requires coaching and this is carried out on location by director John Gubba, who has experience of working both sides of the camera. The infomercial will include some footage filmed by VSI TV for a previous commercial produced at the same location the previous year.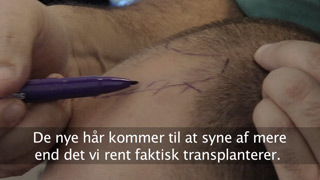 Technical: Filming is done using natural light. On this occasion the video was filmed on the Sony EX3 and recorded in 1920 x 1080P at 25 fps. We will be matching this material in the edit with the previous year's filming on Panasonic P2. Editing in Final Cut pro is done back in England at VSI TV in Marlow. But the rushes are logged and reviewed on location.
Danish version: The client requires two versions of the film, one in English and another in Danish. This means filming two versions of the links and a wildtrack narration in Danish.
Client Testimonial: "We have had several films produced by VSI and it is always a pleasure working with their director John Gubba. All his work is excellent and it is a huge bonus to have our videos produced in both English and Danish."