Filming Models:
Location: Ibiza. Year of Production: 2013.
The brief: To produce a behind the scenes music montage for top London agency MOT Models. The assignment was filming models on location in Ibiza for the duration of the promotional shoot for their Rainbow Campaign.
We spent three days filming models at this famous Mediterranean beauty spot and edited the film back in England at VSI TV's production suite in Marlow. It was a three-day shoot that began with an exhaustive scouting trip round Ibiza in order to find the best locations for filming. On the third largest of the Balearic Islands, this was an endurance test on day one.
The biggest challenge when we began filming models was keeping the equipment from overheating during long sessions in extreme temperatures at locations where there was minimal shade.
http://vsitv.net/ production for http://motmodel.com/.
Producer-director: John Gubba.
Model: Zoe Banks.
Model: Morgane Lecouet.
Model: Jo Renwick.
Model: Roger Frampton.
Photographer: Oliver Sutton.
Stylist & wardrobe: Marianna Frannais.
Make up: Denise Grundmann.
Art director: Ray McGillicuddy.
Filming: John Gubba.
Filming: Corinne Gubba.
Music: Abby Newell at Piaffe.
Editor: john Gubba.
Music track: 'Follow Me' – Raphael Lake.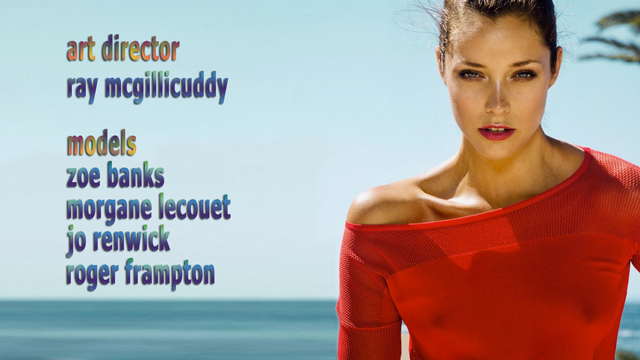 The music has been licensed by the mcps for use on this promotional showreel on behalf of the copyright owners.
Licence number: 82064391.
Date of licence: 28 October 2013.
Licence period: In perpetuity.
Territory: Worldwide.
Technical:
Filming models was done using a combination of the Sony EX3 and Canon 7D DSLR.
It was recorded in 1920 x 1080P at 25 fps.
The video was edited in Final Cut Pro.
Client Testimonial:
MOT Models boss Mike Illes said in August 2014: "Still loving the film you made for us last year."
The video was commissioned by the London agency to post on their website's home page at http://www.motmodel.com/.